Hendrick's Gin Neptunia Curious Margarita Cocktai
HENDRICK'S NEPTUNIA Curious Margarita
THE INCURIOUS MAY LOOK AWAY NOW. For those with an unquenchable desire for more, the Curious Margarita awaits you. This gin margarita is an utterly seductive dance of Agave Nectar, fresh lime, HENDRICK'S NEPTUNIA and the noble crisp cucumber. If it was a mythical beast it would be the Hahvyap, a mermaid with the head of a lime and the body of a cucumber. Ideal for sharing overly tall tales. This is the gin margarita that gin lovers long for.
Garnishes
Cucumber Slices
Ingredients
50ml HENDRICK'S NEPTUNIA
15ml Agave Nectar
25ml Fresh Lime
Cucumber Slice to Garnish
How to make
Add all ingredients to a cocktail shaker.
Add ice, shake very well & fine strain into a rocks glass.
Garnish with a slice of cucumber.
Top tips for a perfect serve
Occasions
Feasts & Dinner Parties
Garden Parties & Picnics
Celebrations
Refreshing Summer Drinks
Backyard Soiree
Hendrick's Gin Margarita Cocktail
If you're into spice, add slice of fresh chilli to your shaker before shaking for the perfect spicy kick.
You may also like
SUMMER PUNCH
Zesty, Refreshing, Fruity, Vegetarian, Intermediate
View Full Recipe
Some questions
people often ask us
When is the best time to drink a Hendrick's Neptunia Curious Margarita?
When you've got that party feeling.
What can you substitute for agave nectar?
Honey if you want but it's not quite as lovely.
A brief history of
Gin
Gin can be traced back to the Middle Ages, with a spirit flavoured with Genever (the Dutch word for Juniper) referenced in a 13th Century Flemish manuscript. Like many spirits, gin was originally produced as a medicine to treat conditions such as dyspepsia and gout and was popularly drank by British soldiers fighting the Dutch in the 17th Century. It made its way to Britain in the early 18th Century, being produced as homebrew in many British homes.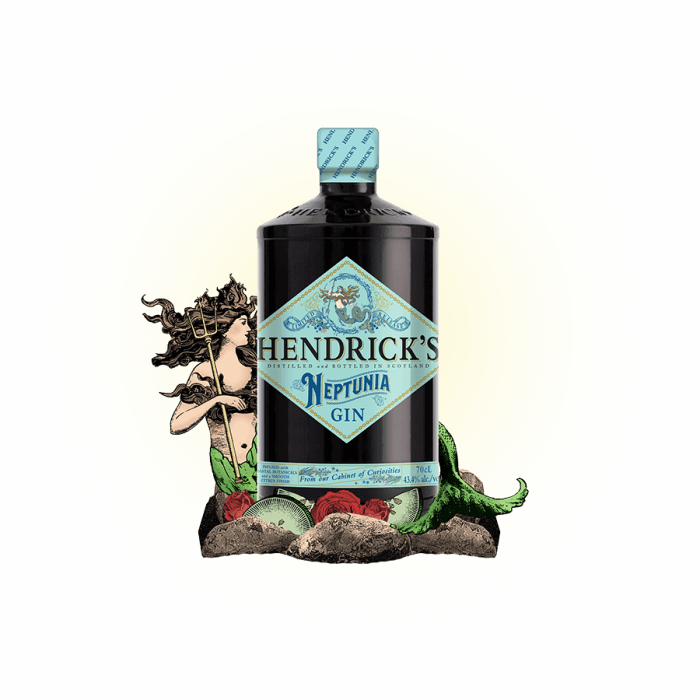 Hendrick's Neptunia Gin
Adding another wave of flavour with an enticing chorus of deeply refreshing coastal botanicals.
Combines a smooth, bright citrus finish with a deliciously distant sea breeze.
LEARN MORE