Hendrick's Martini Gin cocktail
HENDRICK'S MARTINI
The Martini, that singing symphony of liquid, was described as "the elixir of quietude" by author E. B. White. The origin story of this drinkable poem is a contentious issue, and as emotive and important a subject as how best to prepare the drink itself. Since its invention sometime in the 19th century, the Martini has slinked across our collective imagination in literature, cinema and song. Here we meet the flavours of gin in a primal, pure form. This classic of classic gin cocktails, this melodious master, is further heightened when it entertains HENDRICK'S GIN herself.
Equipment
Mixing Glass/Barspoon
Ingredients
50ml HENDRICK'S GIN
7ml Dry Vermouth
Cucumber slice
How to make
Stir vermouth and HENDRICK'S GIN over ice cubes in a mixing glass
Strain into a martini glass.
Garnish with a cucumber slice.
Top tips for a perfect serve
Occasions
Cocktail Parties & Scandalous Soirees
The Cocktail Hour
Moments of Exquisite Irrelevance
Celebrations
Aperitif
Hendrick's Martini Gin cocktail served
Temperature is everything here. For the coldest Martini possible refrigerate the gin and the vermouth and freeze your glass before making.
You may also like
HENDRICK'S GIN & TONIC
Simple, Refreshing, Light, Vegetarian, Easy
View Full Recipe
HENDRICK'S NEPTUNIA Fizz
Simple, Light, Fresh, Vegetarian, Easy
View Full Recipe
Some questions
people often ask us
What other types of Martinis are there?
There are a million and one variations of the Martini, some of them are the Gibson, The Dirty Martini and the 50:50 Martini.
What is the difference between a Gin Martini and a Vodka Martini?
One has gin and one has vodka.
Why don't you shake a martini?
When you shake what you do is you aerate the cocktail for a classic martini you don't want that. There is a great Martini recipe called a Vesper Martini which is shaken.
A brief history of
the Gin Martini
For such a classic cocktail, the exact origins of the Gin Martini isn't known. There is an accepted theory that the Gin Martini evolved from another classic cocktail, the Martinez, often known as the "father" of Martinis. What started as a sweeter cocktail became dryer and dryer as this type of palate grew amongst cocktail drinkers. In the 1920s prohibition bathtub gin was mixed with vermouth to improve the taste of the poor quality homebrew gin. James Bond thrust the cocktail into the spotlight in the 60s and the rest is history.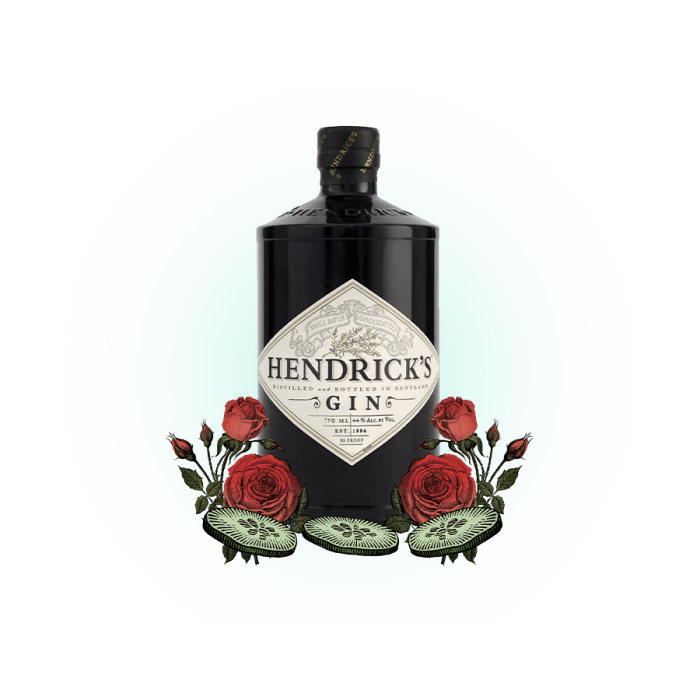 Hendrick's Original
The original HENDRICK'S GIN. Deliciously infused with Rose and Cucumber.
HENDRICK'S is an unusual gin created from eleven fine botanicals. The curious, yet marvelous, infusions of rose & cucumber imbue our spirit with its uniquely balanced flavour resulting in an impeccably smooth and distinct gin.
learn more